March 20
6 to 9 p.m
CoCo Uptown
featuring Nancy Lyons and Meghan Wilker
As part of our participation in 40 Forward, we're launching a monthly event series called Unlea(she)d. It will be an opportunity for women to meet, hear about other women's journeys in life and business and have conversations and make meaningful connections.
Nancy Lyons and Meghan Wilker, aka the Geek Girls, will kick off our first Unlea(she)d with a talk about their journey in life and business, which has culminated in the success of Clockwork Active Media Systems – one of the fastest growing and most respected interactive marketing agencies in the region.
There will also be time for Q&A, small-group discussion and networking.
Appetizers and drinks will be provided by our favorite women-owned caterer, Chowgirls Killer Catering.
About Nancy Lyons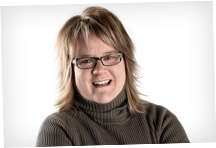 Nancy works at the intersection of technology, community, and people. As a leader and technologist, she creates solutions that further community and business goals by meeting the needs of individuals. Her guiding philosophy is that a human-centered approach to technology is the only way to get results that make a difference. Problem solving is about empowerment: motivated people create good products. Nancy supports clients and teams by fostering a collaborative, idea-driven culture that nurtures creativity and brainpower.
She speaks extensively about work culture, social media, technology, and leadership and has been locally and nationally recognized for her role as owner and CEO of Clockwork. She's co-author of Interactive Project Management: Pixels, People, and Process (New Riders, 2012), serves on the National Board of Directors at The Family Equality Council, is a founding board member of Upper Mississippi Academy and is a Project Skyway Captain & mentor at Project Skyway.
About Meghan Wilker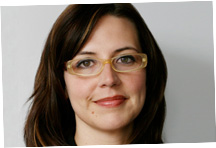 As COO of Clockwork Active Media, Meghan oversees the planning and execution of web, mobile, and application development projects. She's the co-author of Interactive Project Management: Pixels, People, and Process (New Riders 2012), and was named a "Woman to Watch" by the Minneapolis/St. Paul Business Journal. In 2013, she founded the Twin Cities Interactive Project Management Meetup group and is on a mission to change how people think about the role of project management in interactive work.
Her past business cards have included titles like Account Executive, Copywriter, Interactive Project Manager, Strategist and Creative Director at companies ranging from large ad agencies to specialty boutiques. No matter the title, Meghan's hallmark is her ability to get things done — and have fun doing it. As one of the dynamic duo known as the Geek Girls Guide, she is a speaker, writer, and podcaster who loves demystifying technology for non-technical people. She's a frequent contributor to the internet, and a frequently awkward Bollywood dancer.